The Android platform is a new venture for us, which is why droidbydesign is hosted here. Currently we have one demonstration application, which uses the Gestures library to create a 'speed-dial by gesture' application. The text below is from the app's online Help.
Version: 2.1.0
Date: 18 October 2010
About OftSeen Gestures
OftSeen Gestures lets you speed dial using 'gestures', patterns drawn with your finger. This is quicker than looking up a contact in your Contacts and more compact than using the conventional speed dial functionality, which requires you to have a desktop icon for each number.
Features
Create your own gestures and associate them with your favourite numbers.
Use single or multiple strokes.
Select the strength of the pattern recognition used to identify your gestures.
Call numbers directly or after confirming, as you choose.
Optionally send an SMS instead of dialling.
Er, that's it.
Introduction
The application is installed with several predefined gestures, such as the letter V. Note that all of the gestures were drawn by a right-handed person and begin on the left. The direction you draw a gesture is important for recognition.
The first time you use the application you will be taken to the Editor screen and you will see that all of the gestures are shown as 'unassigned'. You can either then delete each gesture and create your own or simply assign a number to the sample ones.
To delete a gesture or assign a number to it, open the context menu for the gesture by using a long-press on the gesture.
When you quit the Editor screen, you will return to the Reader screen and you can start using the application by drawing the gestures whose numbers you have assigned. Read the FAQ below for more information about changing the gesture accuracy and other settings.
Screen Shots
The Edit screen where you create new gestures and assign numbers to them: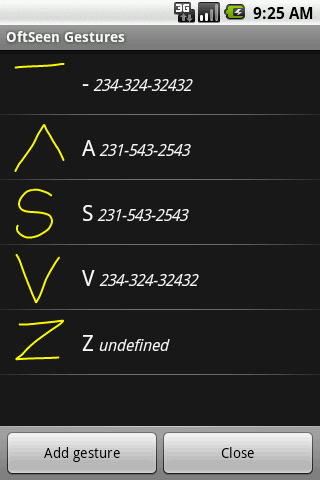 Adding a new gesture: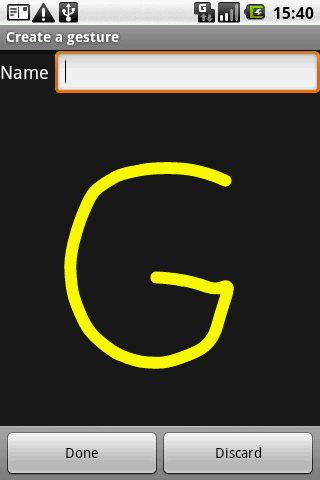 The gesture menu (long press on gesture list item):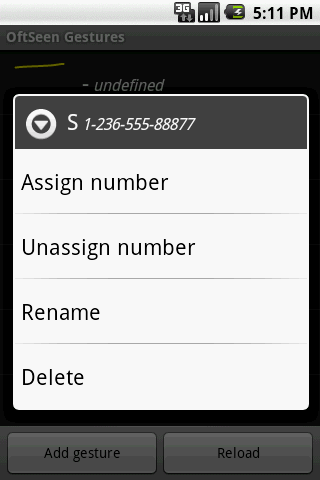 Using a gesture to dial a number: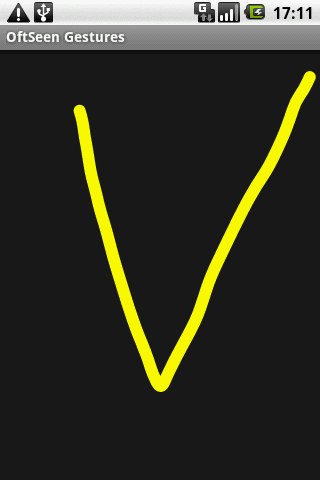 Unmatched gesture: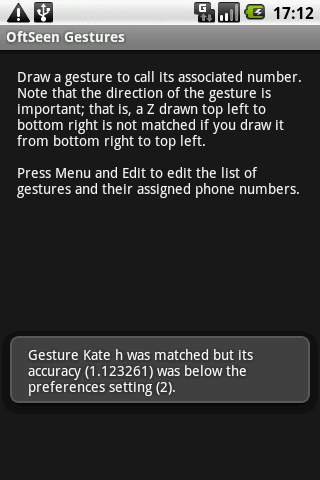 Preferences let you change whether the number is dialled immediately or confirmed, and let you set the accuracy required for gestures. You can also choose to save the numbers mapping file to the SD card instead of internally, and to use gestures made with multiple strokes: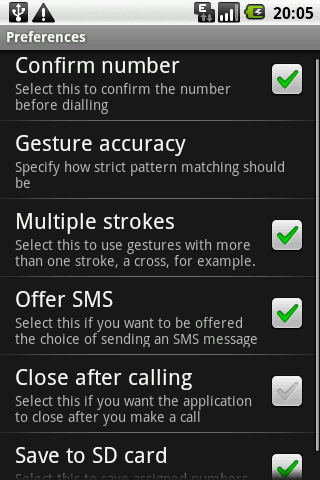 Permissions and Privacy
OftSeen Gestures requires access to your contacts only to display them so that you can assign numbers to gestures. No other use is made of your contacts list and no information is sent from your phone.
The application requires Internet and Call Permissions in order to display its online help, which is a web page embedded in the application. That web page is displayed internally using a browser control but no call is made to the Internet.
You can rest assured that this application does not access anything on your phone apart from your contacts, purely for the purposes of choosing a number, and it does not make any calls to the Internet nor use your data in any way at all. It is a simple tool for making calls.
FAQ
Why does the application require Internet and Call permissions?

Internet permissions are only used to display the internal online Help inside the web browser. Call permissions are necessary to call the number when you draw a gesture. The application does not initiate any other Internet or phone communication, is completely free to run, and does not access or share any of your private data.

How many gestures can I create?

Theoretically, as many as you like, but there are good reasons to limit it to five or six. Firstly, if you have more than that, you are likely to forget their associated contacts without looking them up all the time. Secondly, the program works best with widely dissimilar gestures that cannot be confused during pattern matching; the more gestures you have, the more likely they are to be confused with each other.

Can I have multiple numbers for the same gesture and choose between them when I call?

No. Each gesture is associated with a single number. A useful convention is to define two gestures that look identical, one drawn left to right and the other drawn right to left. You can then assign the most common number to the first gesture and the less common to the second. For example, for your most commonly called number use a dash '—' drawn in one direction and reverse it for the contact's other number.

What do I do if the program tells me that a gesture was recognized but was not accurate enough?

Go into Menu>Options and lower the Gesture accuracy setting. Two is probably an optimal setting.

Can I call the number directly rather than confirming each time?

Yes. Uncheck Confirm Call on the Options menu. But you should only do this if you have widely dissimilar gestures that won't be confused.

Can I send an SMS instead of dialling the number?

Yes. Go into Menu>Options and select Offer SMS. The next time a gesture is recognised you will be prompted to call or SMS.

Is the direction in which I draw the gesture important?

Yes. The letter 'Z' drawn from top left to bottom right is not the same when drawn in the opposite direction.

Can I create gestures using multiple strokes?

Yes, but the delay between the strokes is quite short and if you do not draw the second stroke in time, the first stroke could be recognized on its own. The application default is to use single strokes. Use Menu>Options to change to multiple strokes and then experiment. Note that we have witnessed some unpredictable behaviour when using multiple strokes, for example you define a cross '+' but the reader doesn't recognise it. Try it and see if it works for you.

Wouldn't it increase the accuracy if I was allowed to save multiple gestures under the same name?

Yes, it would. The default Android Gestures library actually supports this functionality but it is not implemented here for reasons of simplicity and presentation.

I can see my gestures file and back it up but I cannot see the file that stores my assigned numbers. Why not?

The numbers map is by default stored in a directory private to the application to avoid it becoming corrupted. If you want to take responsibility for it yourself so that you can back it up, use Android Apps in Settings and move the OftSeen Gestures to the SD card.

Isn't it more trouble to start this application than it is to go straight to Contacts>Favorites?

No, there are two keystrokes compared to four, if you create a shortcut to this application on your desktop.

Can't you provide a widget that sits on the phone's home page?

No, certain functionality does not work as a widget screen and gestures is one of them. An alternative is to put a shortcut to the application on your home page.

Can I delete the default gestures?

Yes, they are only there to get you started. You need to assign numbers to them anyway so you can delete them and start again.

Can I use this application while driving?

No, it's not recommended and is probably illegal. The only reason I include this question is because one user left this comment: 'Really useful app. Especially for when I'm driving.' Maybe with a dashboard-mounted handset you could draw a simple gesture, but I still don't think it's a good idea. Use voice activation instead.
Version History
Version 2.2.0 - 11 May 2014
Updated to support Android KitKat. Removed in-app option 'Save to SD Card' because that is now supported natively by the operating system.
Version 2.1.0 - 17 October 2010
New options:
Choose to send SMS or dial the number.
Choose for the application to shut itself down after calling.
Fixed bugs:
Picking a contact without a display name causes crash.
Selected gesture is null when renaming or assigning number.
Renaming a name with trailing spaces causes gesture to not be found in the library.
Version 2.0.0 - 5 July 2010
The application was rewritten to support both the old and new Android Contacts API. So this version should work on all handsets starting from Android version 1.6 upwards. If you have any problems running this unified version and your handset is a legacy one, try installing the legacy application, now called OnceSeen Gestures, which only supports Android 1.6.
Fixed bugs:
Gesture settings lost after screen is resumed from background.
Version 1.1.1 - 20 May 2010
Minor release. Fixed issue with trailing spaces in gesture name causing the assigned number to be lost on app reload. 1.6. OftSeen Gestures supports all handsets on Android 2.1 and above.d support for multiple-stroke gestures. Added extra interactive tips to improve useability.
Version 1.0.3 - 2 May 2010
Minor release. Fixed bug related to extended character sets and assigned numbers being lost. The mapping file is now saved in UTF-8 format. Note that although this is the known cause of at least one user losing their assigned numbers, it is possible there is a separate cause we have not diagnosed yet.
Version 1.0.2 - 24 April 2010
Minor release. Added option to allow the internal assigned numbers map to be stored on the external SD card along with the gestures file so that you can take a backup if needed.
Version 1.0.1 - 20 April 2010
Minor release with no new features. Fixed bug with preferences being forgotten until next restart. Updated online Help.
Version 1.0.0 - 1 March 2010
First release.
Support
If you experience a problem with this application, please do not just leave an anonymous comment with your rating. It would help us to know the details so that we can fix it, if it is a bug. Send an email to info@droidbydesign.com summarizing the issue along with the make and model of your handset.